2016 Pinot Noir Reserve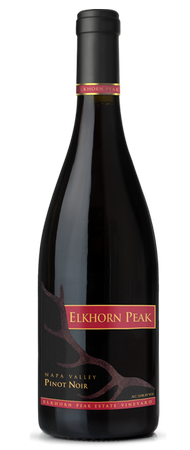 COMPOSITION: 100% Estate grown Pinot Noir
APPELLATION: Napa Valley
TA: 6.01 g/L
pH: 3.71
ALCOHOL: 14.1%
AGING: 12 months French Oak barrels; 10% New French Oak
PRODUCTION: 200 cases
WINEMAKER NOTES: On the nose this wine greets you with cherry and blackberry spice. There is depth and elegance with fine-grained tannins. Rich in the mouth and creamy on the palate. The vanilla and spice of the medium toast French oak rounds out a wonderfully rich and beautiful finish.
VINTAGE NOTES: The 2016 growing year started wet and rainy, with record-breaking rain from November through April. Bud break came a bit early, in February, the vines grew quickly through mild summer temperatures. August brought colder weather and foggy conditions, leading to slow ripening. The beginning of September had a slight spike in temperatures, resulting in a quick harvest.
PRODUCTION NOTES: Harvest began on September 9, 2016 before daybreak to ensure grapes remained cool. Grapes were delivered to winery, destemmed, and pumped into small stainless-steel tanks. The Pinot Noir was cold-soaked for 24 hours before being pumped into small stainless-steel tanks for a 20-day fermentation on skin and seeds. During fermentation temperatures and sugars are checked 3 times a day, and we slowly raise the temperature from the initial 40 degrees to turn sugar into alcohol. Wine is fermented until dry. Next, free run juice goes into tank and grape skins go directly to the press for an hour cycle. Our press wine is the only wine that ages in new French Oak barrels, all other wine will age in neutral French Oak barrels. The new French Oak barrels gives the wine its spice characteristic along with a silky, creamy texture. After 12 months of development in barrel, we select between 4 and 6 barrels that exhibit exceptional complexity and richness to go into our Reserve Pinot Noir.
FOOD PAIRINGS: Pairs with cheeses like brie, gouda, gruyere and chèvre. Serve with main dishes such as duck, lamb, and chicken. Fruit or nut-based desserts pair well too.
Retail Price: $56.00
Case Price (12 bottles): $672.00
Club Member Price: $47.60
Club Member Case Price (12 bottles): 571.20
Join the Elkhorn Peak Wine Club and enjoy savings on Elkhorn Peak purchases! Sign up here.