2018 Pinot Noir Reserve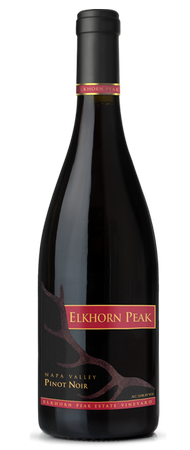 COMPOSITION: 100% Estate grown Pinot Noir; 5 clones (Pommard, Dijon 114 & 115, swan and "R" clone)
TA: 6.01 g/L
pH: 3.71
ALCOHOL: 14.7%
AGING: 12 months French Oak barrels; 10% new oak.
PRODUCTION: 396 cases
WINEMAKER NOTES:
Aromas of earthiness and potpourri with clove and vanilla taking a side-by-side to darker, riper red fruits learning towards raspberry, black cherry and plum. On the palate a silky feel with black cherry and rich strawberry. Tannins are soft, likened to a short steeped black tea, while acidity remains quite good. Medium-bodied, with a long finish. Enjoy now, or lay down to age well for the next 7-10 years. Tasting notes written in collaboration with David Berman.
VINTAGE NOTES:
The 2018 growing season kicked off with budbreak on March 15th, right on time. April brought "miracle rain," as Ken recalls. One storm in April brought nearly 4 inches of rain in a single day; this one storm completely filled the irrigation pond. The April showers gave the vineyard a nice injection of water as it woke up from dormancy. The rest of spring was mild, creating a nice, even fruit set. Summer came on gradually, and temperatures remained steady and warm throughout the growing season with no significant heat spikes. Fall was just as mild as spring and summer, with long, sun-soaked days and breezy afternoons. The moderate fall temperatures allowed the fruit to mature slowly, accumulating flavor complexity with gradual increases in sugar levels.
PRODUCTION NOTES:
Harvest started on September 14, 2018 with the pick of the Pommard clone Pinot Noir, which ripened at a slightly faster pace than the rest of the vineyard. A week later on September 21st and 22nd we harvest the rest of the vineyard. Grapes were delivered to winery, destemmed, and pumped into stainless-steel tanks to begin a 14-day fermentation on skin and seeds. Wine is fermented dry and then pressed before being pumped into French Oak barrels to finish malolactic fermentation and begin aging. After 3 months in barrel, we select a limited number of barrels showing exceptional flavors and finesse to be part of our 2018 Reserve Pinot Noir program. A portion of the Reserve wine is racked into New French Oak barrels over the 12-month aging period. Wine is racked off of the lees three times over 12 months before being blended and bottled.
FOOD PAIRINGS:
Pairs well with cheeses like brie, gouda, gruyere, and chèvre. Serve with meats such as duck, lamb, and chicken. Vegetarians should try pairing this wine with eggplant parmesan, mushroom risotto, and a tomato-based vegetable stew. Very tasty with milk chocolate, and fruit or nut-based desserts, especially desserts that include blueberry, blackberry, raspberry, or cherries.
Retail Price: $56.00
Case Price (12 bottles): $672.00
Club Member Price: $47.60
Club Member Case Price (12 bottles): 571.20
Join the Elkhorn Peak Wine Club and enjoy savings on Elkhorn Peak purchases! Sign up here.
Product Reviews