Rosé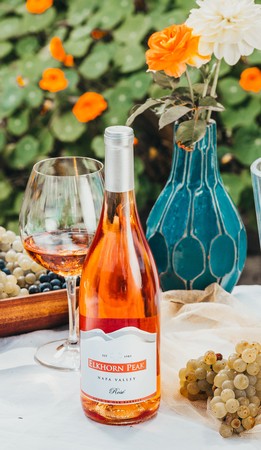 COMPOSITION: 90% Chardonnay, 10% Pinot Noir, barrel aged for 12 months.
APPELLATION: Estate Grown Napa Valley Pinot Noir and Chardonnay
TA: 5.83 g/L
pH: 3.5
ALCOHOL: 14.4%
PRODUCTION: 75 cases
WINEMAKER NOTES:
Blending red and white wine for a rosé is a Spanish style method our Winemaker, Kent Rasmussen brought to us from the Basque region of Spain, and we've found it to be perfectly suited for our delicate Estate Grown Pinot Noir and the Chardonnay we source. The goal is to produce a playful yet complex wine that's both easy drinking and a full sensory experience for wine-drinkers. True to our house style, this wine is fruit-forward, fermented to dry, with balanced acidity and medium-body.
TASTING NOTES:
A shimmery, deep pink coral rosé. On the nose strawberries, dark cherries, vanilla and blood orange. On the palate bright and tangy fruit with a hint of creamy vanilla and spices. Our rosé finishes with playful notes of ripe citrus and apple. Quite a fabulous and fun wine! Serve chilled.
FOOD PAIRINGS:
Naturally, this wine pairs spectacularly with ripe red strawberries. Pairs beautifully with lighter fare, such as summer salads - great with a watermelon. Mint and feta cheese salad. Exceptional with grilled fish tacos. Will also compliment more substantial flavor profiles like BBQ chicken and Spicy BBQ Korean pork.
Retail Price: $27.00
Case Price (12 bottles): $324.00
Club Member Price: $22.95
Club Member Case Price (12 bottles): $275.40
Join the Elkhorn Peak Wine Club and enjoy savings on Elkhorn Peak purchases! Sign up here.
Product Reviews