Pinot Noir Dessert Wine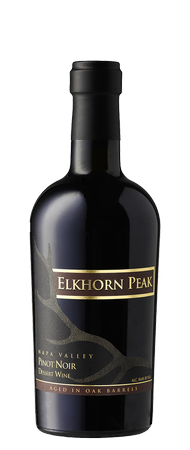 COMPOSITION: Elkhorn Peak Estate Grown Pinot Noir
APPELLATION: Napa Valley
ALCOHOL: 18.6%
RS: 6 g/L
PRODUCTION: 6 barrels
VINTAGE NOTES:
The 2018 growing season will be remembered as a near picture-perfect growing season. Budbreak began in late February, right on time. Spring was mild, creating a nice, even fruit set. Summer came on gradually, and temperatures remained steady and warm throughout the growing season without any significant heat spikes. Fall was just as mild as spring and summer, with plenty of sun and moderate heat. Moderate fall temperatures allowed the fruit mature slowly, accumulating flavor complexity with gradual increases in sugar levels. Harvest began in mid-September, right on time.
PRODUCTION NOTES:
Six barrels of Elkhorn Peak 2018 Estate Grown Pinot Noir were selected to produce this beautiful dessert wine. Finished Pinot Noir is racked into tank, after 12 months aging in barrel, and then fortified. After the fortification process, we pump wine back into barrel to continue to age. We bottle 2 barrels at a time, based on demand from our customers. Our objective is to give this wine as much time in barrel as we can, so that it may continue to age and develop.
TASTING NOTES:
Opens with aromas of stewed dark berries, with hints of maple and brown sugar. On the palate candied cherries, blueberry pie, brown sugar, vanilla and a hint of spice. Medium to long, creamy finish. Best served at cellar temperature.
FOOD PAIRNINGS:
Enjoy as an apertif or pair with aged, sharp cheeses. If pairing with a dessert try with pecan pie, or pour over ice cream for a fun dessert. Pairs excellent with white chocolate and milk chocolate. When looking to pair this wine with food, rule of thumb is: find something as sweet or sweeter than the wine.
Retail Price: $30.00
Case Price (12 bottles): $360.00
Club Member Price: $25.50
Club Member Case Price (12 bottles): $306.00
Join the Elkhorn Peak Wine Club and enjoy savings on Elkhorn Peak purchases! Sign up here.
Product Reviews