Ranch Illustration - 8 x 10 Print
Merchandise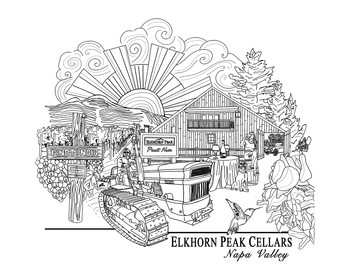 Capturing the good vibes at Elkhorn Peak, we've worked with Just Go Home artist, Britney Stanley, to capture everything special about the ranch in one illustration. Described as "really cool" by Ken, this line drawing contains spectacular detail - the longer you look, the more you see. Great print to display next to your wine collection or at your at-home bar.
Enjoy $5 flat rate shipping on all merchandise purchases.
Optional add-on: Have your poster personalized and signed by Ken! Simply request to have your poster "signed by Ken" in the special instructions box checkout, and it'll come with a personalized note to you and signed by Ken.
Product Details: Black & White Illustration
Dimensions: 8 x 10 inches
Printed on photo paper with a matte finish. Delivered with backing board and inside a protective plastic sleeve. Display as-is or frame it for a more polished look.
Product Reviews